Pretoria – 4th September, 2015 – ZAMBIA'S HIGH Commissioner – Designate to South Africa, His Excellency, Mr. Emmanuel Mwamba has called for exchange programmes between schools in Zambia and South Africa as a way through which social and cultural disparities could be eliminated.
Mr. Mwamba was speaking when a group of teachers from Mpunde Girls Secondary School of Kabwe and Ibex Hill School of Lusaka paid a courtesy call on him at his office in Pretoria yesterday.
He said there was need for well co-ordinated school exchange programmes to be worked out as this will serve as a platform through which schools can exchange ideas and in the end help foster unity and understanding among countries in Africa.
"We need to co-ordinate exchange programmes properly especially that Africa is now becoming like one big country. Exchange programmes will help eliminate intolerance of one another as well as some of the disparities that exist and in the end enable us benefit from one another. We want school qualifications, for instance, that can be accepted across countries on the continent. These cultural differences can be narrowed down," he said.
Mpunde Girls Secondary School Head Teacher, Sister Emma Banda explained that the teachers were in South Africa on holiday which was facilitated by parents of the pupils at the school as a gesture of appreciation for the teachers' good efforts. The school has been recording 100 per cent pass rate at grades nine and 12 level since 2010.
Sister Banda said the teachers would like to turn their future visits to South Africa into programmes that will take them to visiting schools and other educational institutions in South Africa.
Ibex Hill School Head Teacher, Sister Petronella Lyempe said her school has also started showing good improvement as seen from the results in the last two years which have been at 100 per cent.
And First Secretary in charge of education at Zambia's High Commission in Pretoria, Mrs. Emmerentiana Bweupe pointed out that indications were that a number of schools around Gauteng province of South Africa would be interested in meeting representatives from schools in Zambia.
Mrs. Bweupe urged the two schools to do proposals on their planned visits which she assured would be delivered to prospective institutions.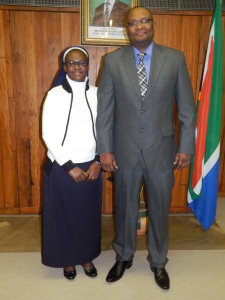 Issued by:
Nicky Shabolyo
PRESS SECRETARY
HIGH COMMISSION OF ZAMBIA IN SOUTH AFRICA
Mobile: 00 27 810027548 Email:press@zambiapretoria.net; nshabolyo@gmail.com