PRETORIA- TUESDAY 24TH JANUARY 2017 – ZAMBIA will maintain bilateral ties with both Morocco and Sahrawi Arab Democratic Republic (SADR) as one of the ways through which to help promote cordial relations between the two countries.
Foreign Affairs Minister, Harry Kalaba has said that Zambia will, however, ensure that the interests of the country came first as the country pursued this position.
Mr. Kalaba has said that as a member of the African Union (AU) Peace and Security Council, Zambia would like to use this as a vehicle that would see the two parties that have been locked in conflict over territorial control, engage in dialogue in order to find a solution to their differences.
This is in line with the Constitutive Act of the AU which stresses the need to resolve conflict through dialogue.
The Minister was speaking in Pretoria this morning when he addressed diplomatic staff at the Zambian High Commission.
And Mr. Kalaba has announced that the Ministry of Foreign Affairs has begun work to establish a directorate that will coordinate provisions of the recently formulated Diaspora Policy.
He said Government was committed to ensuring that provisions of the policy were implemented so that Zambians living abroad could be assisted to invest back in their country of origin.
"We are putting up a framework to actualise the Diaspora Policy. This policy is intended to help Zambians living beyond the borders so that they can realize their dreams. It is intended to make the process smooth so that Zambians can find it easier to invest back home."
"In fact the Diaspora Policy is married to the policy on dual citizenship. We want to make it easier for Zambians to buy land or start-up businesses in their country. National budgets for a number of other countries are financed by citizens living abroad who have decided not to keep their money in off-shore accounts but to invest back home."
Mr. Kalaba said the directorate for the Diaspora Policy was expected to be operational by the end of this year.
The Minister also briefed staff on the Foreign Service Bill which would soon be presented to Parliament, pointing out that the intention was to make the Zambian Foreign Service, more professional. He said the Bill was intended to enhance and actualise efficiency.
Mr. Kalaba said the Bill, once passed into law, would eventually help change the perception that people had about the Ministry of Foreign Affairs and make everyone realise that the Ministry was the epicentre of economic development as it opened doors for other Ministries and Government departments and agencies for them to be able to work with other countries.
Mr. Kalaba disclosed that under the new arrangement, all those appointed as diplomats would be required to be attached to the Ministry of Foreign Affairs for six months as well as attend a course in diplomacy at the Zambia Institute of Diplomacy and International Studies. All attaches in Zambian Missions would be required to come from line ministries.
"It is important that we move it to the levels that the architects of this Ministry intended it to be especially with the shift from political to economic diplomacy. The days of going into Foreign Service to go and rest are gone. Each one has to prove themselves and hard work will become key in the assessment of one's performance."
He urged staff at the Mission in Pretoria to be proactive as the world was competing for the same limited resources and "if we are going to be reactive, we'll lose out."
Mr. Kalaba said he had been following and was satisfied with the performance of the Zambian Mission in South Africa.
The Minister, who recently signed a memorandum of understanding with his South African counterpart, Minister Maite Nkoana-Mashabane to inaugurate the Joint Commission for Coorporation (JCC), urged the Mission to immediately start working on plans on how to implement the contents of all signed agreements.
He directed that work should also start to arrange JCC meetings between the two countries.
Mr. Kalaba, who later connected to Addis Ababa, Ethiopia, to attend the 28th AU Heads of State Summit, at which elections will be held for the AU Commission, said Zambia had a lot of hope in the two candidates that it has put up.
Zambia has proposed Ambassador Albert Muchanga as Commissioner for Trade and Industry, and Dr. Austin Sichinga as Commissioner for Agriculture and Rural Economy.
He said Zambia attached great importance to the elections as none of its nationals has ever held a position at the AU.
The Minister praised President Edgar Lungu for the work he has done in putting Zambia back on the international stage.
"President Lungu has worked very hard to put Zambia where it is today. I think we must give credit where it's due. President Lungu has continued pushing so that Zambians occupy positions in international organisations. As we speak, he has proposed Zambia's Permanent Representative to the United Nations (UN), Dr. Mwaba Kasese-Bota for the position of representative for the Landlocked Developing Countries within the UN system.
And Zambia's High Commissioner to South Africa, His Excellency Mr. Emmanuel Mwamba, briefed the minister on activities in which the Mission had been engaged, pointing out that the State Visit by President Lungu in December last year, was successful as it resulted in the inauguration of the JCC as well as other commitments and agreements being reached by President Lungu and President Jacob Zuma.
Mr. Mwamba informed the minister about the frequent criminal attacks on Zambians travelling to South Africa in recent months. He said South African authorities had been engaged on this.
He said the South African political landscape was expected to be active this year considering that the governing African National Congress (ANC) will have its elective conference at which the party will pick its next president, who will contest national elections to become republican President in 2019.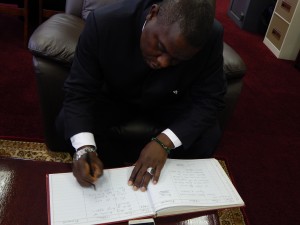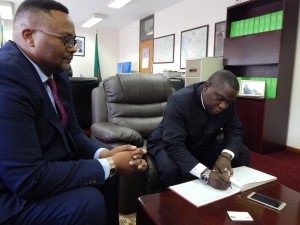 Issued by:
Nicky Shabolyo
PRESS SECRETARY
HIGH COMMISSION OF ZAMBIA IN SOUTH AFRICA
Mobile: 00 27 810027548 Email: press@zambiapretoria.net; nshabolyo@gmail.com