PRETORIA – 23RD SEPTEMBER, 2015 –THE High Commission of Zambia in South Africa will soon embark on a sustained programme intended to help forge strong links between itself and Zambians living in that country.
Zambia's High Commission-Designate to South Africa, His Excellency Mr. Emmanuel Mwamba has said that the Mission is drawing up, among other interventions, a programme of consular clinics that will be conducted in various strategic locations across South Africa.
Mr. Mwamba said the clinics were an important activity as they gave citizens an opportunity, to seek answers or clarifications and also receive updates from the Mission on laws, policies and other measures being pursued by both the Zambian and South African Governments.
The High Commissioner was speaking in Durban on Tuesday when he met executive committee members of Tiyende Pamodzi, an association formed by Zambians living in Durban. He was accompanied by First Secretary for Economic and Trade, Mr. Mande Kauseni.
"Since my arrival at the Mission, I have made a number of observations and made suggestions on how I think certain things should be done. We intend to bring the Mission closer to our people so that we are relevant. We want to conduct consular clinics around all these challenges you have outlined in order to help make lives of those Zambians living here a little bit more manageable," Mr. Mwamba said.
Mr. Mwamba bemoaned the fact that some Zambians were living in South Africa under refugee status even when circumstances in Zambia have never warranted such standing. He called for the formation of a credible national association that would attract Zambians of all walks of life.
"The onus is on you and that is why I want a proper and credible association. Do an introspection and see why you cannot attract membership from professional Zambians living here. We cannot do everything as a Mission. You are key partners and we can do a lot of things together if only we re-organise ourselves. We are just in Pretoria but you and your membership are all over South Africa," he said.
The High Commissioner encouraged Zambians to register with the Mission and not only seek its intervention when they were faced with crises.
Mr. Mwamba also took the opportunity to commend the association for the way they handled the death of a Zambian who died two weeks ago while visiting Durban with his wife.
"What you did is commendable; that is what being Zambian is and we appreciate your efforts. Please continue looking out for one another."
The association executive committee had earlier presented various challenges that Zambians living in Durban were facing. They pointed out that it was expensive for individuals to travel to Zambia to renew their national registration cards or drivers licences each time such documents expired. They proposed that such documents be issued at the Mission.
They further noted that it had become difficult for Zambians to be issued with various South African permits even when they qualified under the law, with a number of them repeatedly losing money through applications which they were being advised to make.
The Zambians also called for the establishment of an office at the Mission which would solemnise marriages between Zambians. They said South African law did not give jurisdiction to authorities to preside over a marriage involving Zambians and that all those intending to marry have had to travel back to Zambia.
They pointed out that Zambians in Durban dealing in imported vehicles were being subjected to charges which they viewed as unfair. They wondered why South Africa required that the imported vehicles were subjected to fitness inspection even when they were not meant for use in the country.
They also called for the establishment of a consulate in Durban considering that the city was a major trade and tourism destination with a lot of Zambians living or visiting there.
They further noted that the new South African immigration laws were a challenge in which a lot of Zambians have been caught up.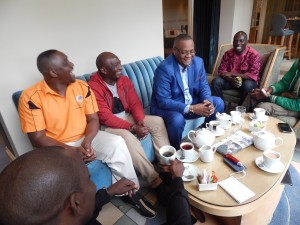 Issued by:
Nicky Shabolyo
Press Secretary
ZAMBIAN HIGH COMMISSION IN SOUTH AFRICA
Cell: +27 (0) 810027548
Email: press@zambiapretoria.net or nshabolyo@gmail.com