DURBAN – 22ND SEPTEMBER, 2015 – GOVERNMENT says the launch of a direct flight to Durban by Proflight will supplement government's efforts meant to turn Zambia into a hub for air travel throughout the region.
Zambia's High Commissioner-Designate to South Africa, His Excellency Mr. Emmanuel Mwamba said this at the launch of the route held at the International Convention Centre in Durban today.
Mr. Mwamba said the Government supported the decision by Proflight Zambia to deploy its aviation assets between the two economic centres of Southern Africa, that is, Lusaka and Durban. He said the launch was a culmination of the Zambian Government's continuous commitment to the success and advancement of the commercial aviation industry in the country.
He noted that Government has begun to take full advantage of Zambia's geographical location, which he said made the country a natural transport hub and transit point within the sub-region and beyond.
"Government's goal is to ensure that Zambia becomes the preferred transit point in the region. In order to achieve this; apart from investing in road, rail and water transportation, Government has commenced the modernisation and upgrading of airport infrastructure which include international airports, provincial and selected district aerodromes at an estimated cost of 1.7 billion United States dollars.
"We want to develop an integrated, reliable and efficient transport system to leverage our central location to ensure that at least 25% of all cargo traffic south of the equator is processed through Zambia by 2064," Mr. Mwamba said.
He noted that Government's support of ventures such as the launch of the Proflight route was an indication of Zambia's continuous commitment to attaining real regional integration, especially within the SADC region, as well as to the facilitation of the movement of goods and people.
Mr. Mwamba noted President Edgar Lungu's announcement in his address to National Assembly on Friday last week that Zambia would soon ratify the tripartite free trade area agreement which would make the country part of the largest free trade area in Africa with a combined GDP of 1.3 trillion United States dollars was an exceptional undertaking considering that Africa continued to be a highly competitive market.
He said Air Transport was a critical industry with a significant impact on the African economy and should play a pivotal role in realising the objectives of the envisaged tripartite free trade area.
This is because Government has always believed that the aviation sector had potential to contribute to tourism development, increased business and transformation of our economy.
"The city of Durban is home to a number of multi-national companies, including retail and automotive sectors, which have their head offices in Durban and in the SADC region. These use air services for both their business travel and cargo transport requirements. It is our hope that with more Zambians being availed of easier channels through which they can be part of the commerce taking place in the city of Durban, Zambia will be able to turn around the trade imbalance," he said.
The High Commissioner said Durban has proved itself as a great host for international events and conferences; establishing itself as a conference, business and leisure travel destination of choice.  He said with the flight schedule that Proflight has put up, it would be easy for Zambians to travel to Durban for just a weekend or even longer periods to attend to urgent business of meetings.
"More than anything else, this route will consolidate and further advance the relations, not only between the Republics of Zambia and South Africa, but most importantly, the old ties and bonds of comradeship, friendship and fraternity between Zambians and South Africans. This will further strengthen political and economic relations with South Africa," Mr. Mwamba said.
And Kwa Zulu-Natal Member of the Executive Committee for Economic Development, Tourism and Environmental Affairs; Mr Michael Mabuyakhulu said the launch of the route proved that Proflight was genuinely determined to ensure that it expanded its operations.
Mr. Mabuyakhulu said South Africa valued the launch of the route which coincided with the renowned World Routes Development Summit in Durban, the first-ever to be held in Africa.
He said South Africa wanted to promote sustainable airline routes with the rest of the world.
And Proflight Director of Government and Industry Affairs, Captain Philip Lemba said the launch of the flight was great economic news for Zambia because it will bring about increased tourist arrivals which would benefit the country and promote it abroad. He said a closer link as a result of the service would promote trade and business for Zambia and South Africa.
"As Proflight, we believe this flight is an important opportunity for Zambians to do more business in South Africa, which is after all our largest trading partner," Captain Lemba said.
Proflight will fly three times a week to Durban using its 50-seater CRJ-100 aircraft.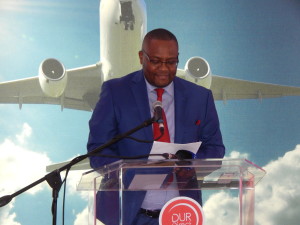 Issued by:
Nicky Shabolyo
Press Secretary
Zambian High Commission to South Africa
Cell: +27 (0) 810027548 Email: press@zambiapretoria.net or nshabolyo@gmail.com