PRETORIA – Saturday, 25th October, 2014 – SOUTH Africa has paid glowing tribute to Zambia for the role she played in assisting liberation movements in Southern Africa.
South Africa has also said that she appreciated and held in high esteem the excellent bonds of friendship and the warm fraternal relations which were forged in struggle with the Government and the people of Zambia.
Speaking at celebrations to mark Zambia's Golden Jubilee of independence in Pretoria on Friday night in Pretoria, South Africa's Deputy Minister of Energy, Ambassador Thembisile Majola, described Zambia's contribution to the liberation of Southern African countries as legendary.
Ambassador Majola, who was the Guest of Honour at the occasion, said Zambia was home to many liberation movements waging wars of liberation against colonial domination in the Southern African region and that Zambia did this at a time when she just gained her independence and therefore still vulnerable.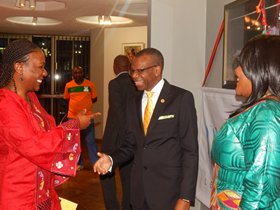 "For this, the Government and the people of Zambia have paid the ultimate price on a number of occasions. The memorable contribution will forever remain etched in the memories of the people of Southern Africa and in particular the people of South Africa," Ambassador Majola said.
She bemoaned the current trade imbalance between Zambia and South Africa, which favoured the latter, noting that the challenge was to ensure that this was addressed.
Trade for the period January to August 2014 was at 18.6 billion rand worth of goods exported by South Africa to Zambia, while Zambia exported goods worth a 2.1 billion rand. This has made Zambia one of South Africa's top three trading partners in Africa.
Ambassador Majola pointed out that this was owing to, among others, the economic interaction and legislative environment and regulatory framework that the two Governments have put in place in their efforts to enhance development.
She noted that South African companies have continued to participate in Zambia's main annual trade shows to promote trade and investment cooperation between the two countries while companies such as Shoprite/Checkers, Game, Anglo-Vaal, SAB, Truworths, and Investec Bank, have become major role-players in Zambia's commercial markets.
The Deputy Minister observed that Zambia and South Africa have been proponents of regional integration with particular emphasis on the North-South Corridor which is envisaged to facilitate trade and physical interconnectivity with mining, agriculture and tourism as well as movement of people once implemented.
And Zambia has pledged to support all efforts required to contain Ebola in order to restore normalcy in the economic and social lives of people in countries affected by the disease in West Africa.
Speaking to South African Government officials, diplomats, the business community and cooperating partners who attended the celebrations, Zambia's High Commissioner to South Africa, His Excellency Mr. Muyeba Chikonde said Zambia viewed the disease as a common challenge to humanity and that there was need to scale-up efforts to contain it.
Mr. Chikonde said there was need to increase "the African voice and effort as this disease knows no boundaries, race or tribe and could easily be in our neighbourhoods."
He said the problem required a concerted global approach and that Africa should be seen to take the lead in the fight as the continent could not afford a reversal of the rapid economic growth it was currently experiencing.
He noted that as per Zambia's presidential statement during the general debate of the 69th Session of the United Nations General Assembly, the burden that Ebola has brought about was not only for the people of Liberia, Sierra Leone, or Guinea.
Mr. Chikonde said Zambia's 50 years of independence celebrations this year coincided with South Africa's attainment of 20 years of democratic rule, making it a significant year for both countries to reflect on how strong the bond between the two countries was. He said the shared history reflected a people that had collectively lived together dating back well beyond liberation times. This fact was re-emphasized through South Africa's President Jacob Zuma's remarks when he visited Zambia in 2009 that "we feel at home in this former headquarters of the ANC."
Mr. Muyeba further noted that it was yet again not surprising that shortly after being inaugurated as Zambia's fifth head of State, President Michael Sata's first official trip outside Zambia was to South Africa to support the African National Congress' centenary celebrations.
He said, today, the two countries have a number of bilateral agreements covering trade and industrial development, agriculture and animal husbandry, geology, mining and mineral beneficiation, energy, health and defence.
"The difficult years of fighting colonialism and apartheid together must translate into a successful joint quest for economic freedom and social development. Our shared history must encourage us to work together to fight poverty, disease to ensure that our people have decent jobs and a better quality of life," Mr. Chikonde said.
In addressing the Zambians who attended the event, Mr. Chikonde hoped that the Golden Jubilee will provide an opportunity for the people of Zambia to embrace patriotism and reflect on where they were coming from and where they wanted to go.
"The evidence is there for all to see that Zambia is going through an unprecedented record of transformation. My advice to the Zambian people from across the width and breadth of our country is that let us continue to be united in diversity, live in peace and actively participate in the development process taking place," he said.
He urged Zambians to actively participate in public consultation and consensus building in the constitution making process following Government's release of the draft constitution on Thursday.
Issued by:
Nicky Shabolyo
PRESS SECRETARY
HIGH COMMISSION OF ZAMBIA IN SOUTH AFRICA
Mobile: 00 27 810027548 Email: press@zambiapretoria.net; nshabolyo@gmail.com